Electrical equipment failures result in millions of dollars in property damage, lost business, and even fines every year. According to Hartford Steam Boiler, the world's largest provider of equipment breakdown insurance, 50% of these failures are a result of too-loose or too-tight terminal connections, extended exposure to moisture, and collection of dust on live connection points. 20% of the failures are due to defective insulation and line disturbance. 30% of the electrical failures are due to various other preventable factors such as overloading or inadequate capacity, and short circuits.
These equipment failures can result in Injury, Business Interruption, and Loss of revenue. This can be especially painful for Mission Critical businesses such as Hospitals & Healthcare Facilities, Industrial & Manufacturing Facilities, Distribution & Logistics, and Public Safety Installation and Operations.
Examples of Electrical System Failures (Source: Hartford Steam Boiler Insurance)
Hotel: Loose bus bars shorted out the electrical panel that supplied the HVAC system, setting off sprinklers and cutting off all power. Guests were rented rooms at another hotel before temporary equipment and generators were installed. Total Recorded Loss: $146,172
Office Building: Voltage fluctuations caused two terminal boards in an office building phone system to short out. Total Recorded Loss: $52,500
Medical Office Building: Electrical arcing destroyed three main electrical panels and left the office building without power. Temporary measures were taken to restore power to tenants: Total Recorded Loss: $1,597,389
According to the Institute of Electrical and Electronics Engineers (IEEE) the failure rate of electrical equipment is 3x higher without a scheduled Preventive Maintenance Program as compared with those that are.
"A well-administered electrical preventive maintenance program will reduce accidents, save lives, minimize costly breakdowns and unplanned shutdowns or equipment." Source: National Fire Protection Agency, NFPA-70B.
If you are looking to minimize safety issues, maximize NFPA 70E (Regulatory?) compliance, and reduce the chances of business interruption and overall maintenance costs, then implementing a regimented Preventive Maintenance Program is the only answer.
Why do you need to plan Preventive maintenance?
NFPA 70E requires all Employers to implement a preventive maintenance program to ensure a safe workplace for all workers. Four major benefits resulting from implementing a successful maintenance program include:
Figure 1 - BOPAT team conducting preventive Maintenance

Safety of the personnel and equipment

OSHA uses NFPA 70E as a national consensus standard for citations. Proper functionality of electrical components such as motors, machines, circuit breakers, panels, and feeder cables contribute to maintain electrical system stability. Electrical component failure can result in serious damage for property and in-house personnel safety. Therefore, the prime responsibility of the facility manager, plant engineer, health & safety personnel is to follow the guidelines provided by OSHA and NFPA 70E codes.

Reduce electrical Interruptions

Consider that you are in charge of a mission critical facility such as a Hospital or Elderly Care Facility, or an Industrial Gas Manufacturing where you cannot afford any shut down. An unplanned outage can result in millions of dollars in lost revenues, (non)insurance liabilities, and can cause serious threat to the safety of employees and customers.

Scheduling preventive maintenance takes much less time and cost than an interruption that results in an emergency repair or replacement of electrical equipment. The solution is to implement an applicable preventive maintenance program for your facility.

Minimize your electric bill by avoiding system losses

Running electrical equipment at rated capacity helps improve energy efficiency. However, with time being equipment tend to experience weak insulation, damage to winding, and loose connections due to thermal expansion and contraction resulting in high electrical resistance. Regular Preventive Maintenance program helps identify possible issues to mitigate energy losses and in return reduces electricity bill.

Figure 2 - BoPat Technician Conducting Power Quality Testing

Reduce future repair costs for electrical infrastructure

Did you know "every $1.00 of deferred Electrical maintenance = $4.00 in future expense"? An electrical system failure can cause heavy monetary losses for your organization. Preventive Maintenance costs MUCH LESS than what you might end up spending in Insurance Deductible. Avoid costly and time-consuming disruptions by fixing issues before they occur.
How frequently should the electrical systems be serviced?
A facility-specific electrical maintenance schedule depends upon variables such as the operating environment, the specifics of the equipment being maintained, and the intensity of operations at which your facility is running. An effective Electrical Maintenance Plan requires good record keeping of previous inspections and any associated issues identified. Maintenance Programs come in two flavors – Predictive Maintenance or Energized Testing, and Preventive Maintenance or De-Energized Testing. Additionally, for safety compliance, Arc Flash is an Engineering study with the end deliverable being equipment labels with information that tells the correct blast suit level the Technicians need to wear should they need to service the equipment while energized.
| Predictive or Energized Maintenance | Frequency of Testing |
| --- | --- |
| Visual Inspection | 6 months |
| IR or Electrical Thermography | 12 months |
| Ground Resistance Testing | 12 months |
| Electrical Load Analysis | 60 months |
| Power Quality Analysis | 24 months |
| Preventive or De-Energized Maintenance | |
| Clean & Tighten | 12-36 months |
| Insulation Resistance Testing | 60 months |
| DLRO Testing | 24 months |
| Safety Testing | |
| ARC Flash Analysis | 5 Years |
Besides the annual maintenance program mentioned above, it is vital to implement bi- annual or quarterly basis maintenance for control panels, power panels, switchgear, and equipment terminals to ensure safety and reliability of your electrical system of facility. Typically, machines, motors, control systems, and electrical tools have an annual maintenance guide included in the operation manual.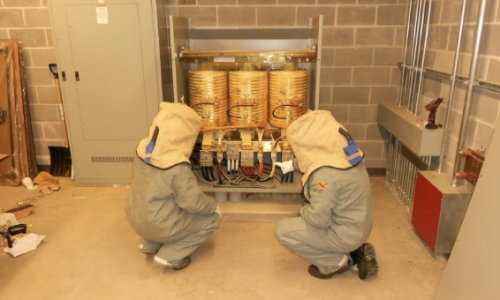 Why work with BOPAT Electric Co.?
BOPAT Electric is a leading electrical contractor and Preventive Maintenance specialist with 50 years+ of experience. We serve the Maryland, Virginia, and the greater Washington DC area. We offer complete Preventive Maintenance plans, testing, and troubleshooting for all your commercial, and industrial needs. Reach out to us for scheduled maintenance, or for 24/7 emergency service.
Talk to Us
Email: requestservice@bopatelectric.com
#safetytraining #nfpa70e #oshatraining #electricalsafety #facilitymaintenance #facilitymanagers #facilitymanagementservices #safetyinspection #plantengineering #electricalengineering #inspectionandtesting #inspectionservices